Coulee Bend Intuition
Last Updated Sept. 4, 2003
---
"Tutie" is the 2003 edition of the golden cross between Frenchie and Miss T Beam. The two previous fillies from this cross both earned the title of Reserve Champion in the Alberta Weanling Futurity - and have gone on to new homes in Massachuessetts and Colorado. 'Tutie' is bay with no white - and what a gorgeous face !!! This is going to be a big girl, should mature in the 15 - 15.2 HH area, and she definately has the wonderful disposition and easy going attitude we have come to expect from this cross. Tutie is nominated to the Alberta Morgan Futurity and elegible for the World Morgan Futurity.
UPDATE - before heading to her new home with Dusty and Moon, Tutie made her show ring debut at the Alberta Morgan Show - where she won her weanling filly class, and went on to be pinned Reserve Champion Jr Mare of the show !! Wow - what a start to this fillies career.
SOLD
---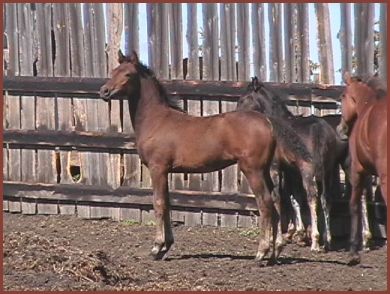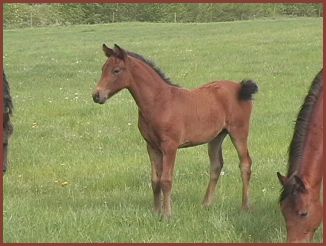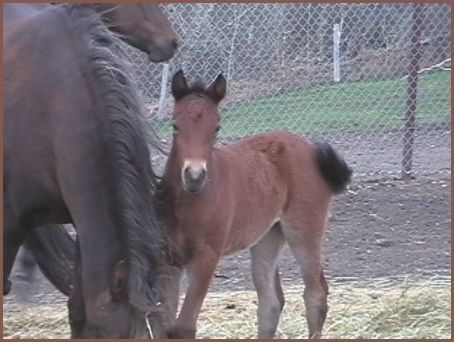 ---
Pedigree for Coulee Bend Intuition
2003 Bay filly
Sire
Season's Forever French
Sire
Futurity French Command
Sire
Carlyle Command
Sire
Waseeka's In Command
Dam
Wawayanda Bay Maebel
Dam
Nobelle
Sire
Noble Command
Dam
Waseeka Valiant Lady
Dam
Jante Fancy Fashion
Sire
Forevermore
Sire
Beamington
Dam
Merwin Madonna
Dam
Shaelena
Sire
Medomak King Cobra
Dam
Azurewood high Time
Dam
JMF Miss T Beam
Sire
Whispering high Beam
Sire
Beamington
Sire
Mr Breezy Cobra
Dam
Ellen Barr
Dam
Highover Desiree
Sire
Donlyn of Wind Crest
Dam
Vanderland Desiree
Dam
WSS Shaker's Gwinn
Sire
Shaker's BaBa
Sire
Troutbrook Playboy
Dam
Holly's Gay B
Dam
TVM Gwinever
Sire
UVM Promise
Dam
Medomak Katanna
---

Last Updated on May 3,2003
By D.L.C. Consulting Inc.